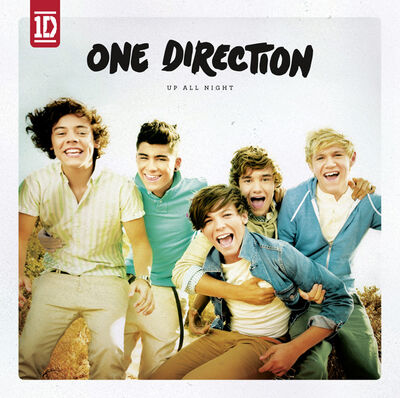 Up All Night was released in the UK on November 9, 2011, and on March 13 in the US. It topped the charts, with the Deluxe Edition #1 on iTunes and the regular #2. It also made music history with the first British album to become #1 on the Billboard 200 Albums Chart (the top 200 albums EVER sold in the US) so quickly.
The regular edition has 13 songs, and the Deluxe Yearbook Edition has 2 extra songs, the Souvenir Edition has 18 Songs. Three of the 1D songs did not make either album.
Up All Night (regular)
1. What Makes You Beautiful
2. Gotta be you
3. One Thing
4.
More Than This
5. Up All Night
6. I Wish
7. Tell Me A Lie
8. Taken
9. I Want
10. Everything About You
11. Same Mistakes
12. Save You Tonight
13. Stole My Heart
Up All Night Deluxe Yearbook Edition
1. What Makes You Beautiful
2. Gotta Be You
3. One Thing
4. More Than This
5. Up All Night
6. I Wish
7. Tell Me A Lie
8. Taken
9. I Want
10. Everything About You
11. Same Mistakes
12. Save You Tonight
13. Stole My Heart
14. Stand Up
15. Moments
Trending pages
All items (12)