Hello again :D
As everyone on this wiki should know, today is Liam Payne's birthday!! I'm so happy, I was counting down the days!! I've written "Daddy Direction" on my wrist like everyone on the internet said to do and I'm wearing a yellow ribbon in my hair. But I don't know why they said yellow when liam's favourite color is purple, so I wrote in purple on my wrist :) My friend (who shall remain un-named) is making him a cake tonight for London times, I think that's really sweet :)
Anyway, here is my One Direction quote to end my post
Question: What could you do for the sake of the audience ratings?
Louis: We could all get naked
Zayn: Shall we?
(Me: YES!!)
Niall: No!!
Louis: Not now, later
(Me: Damn, gunna have to see what they're doing later :P)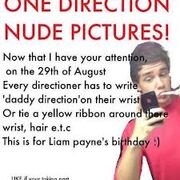 Ad blocker interference detected!
Wikia is a free-to-use site that makes money from advertising. We have a modified experience for viewers using ad blockers

Wikia is not accessible if you've made further modifications. Remove the custom ad blocker rule(s) and the page will load as expected.